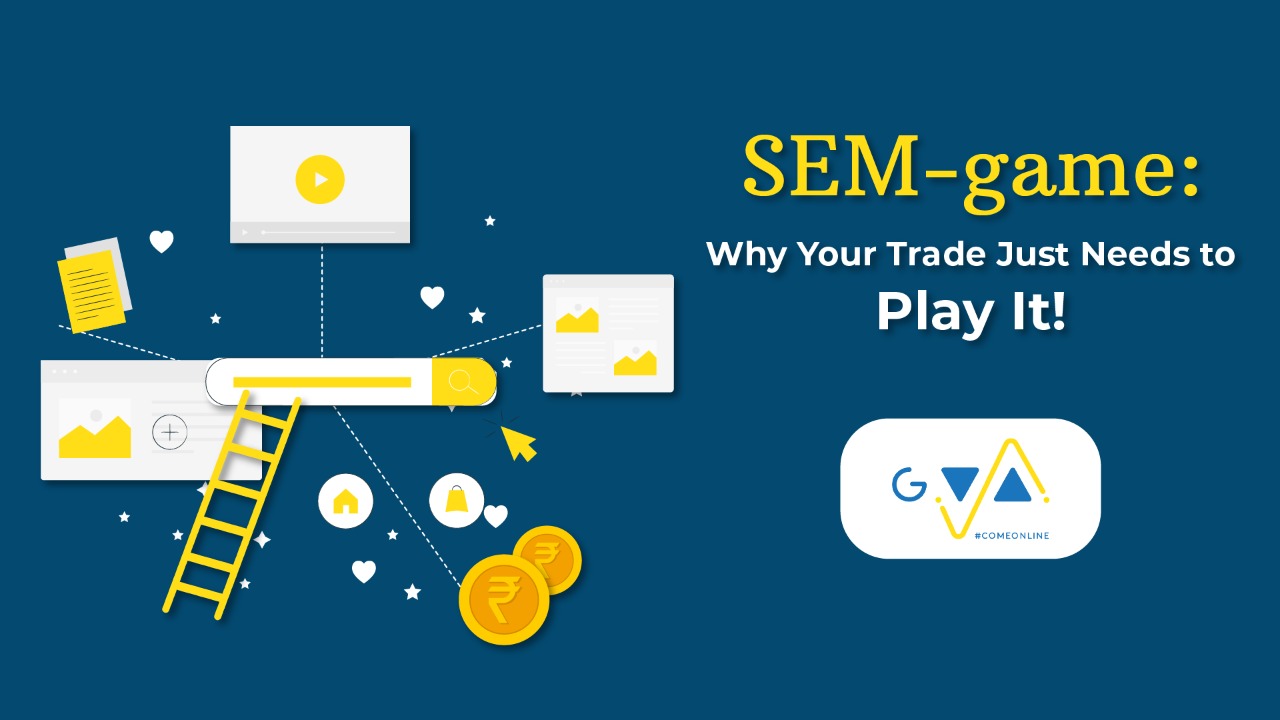 SEM game: Why Your Trade Just Needs To Play It
In our last blog, we tried to add clarity to your idea of SEO and why your brand needs it. 
While there we had focused more on the ways of boosting your organic presence in the virtual space, today we plan to take your marketing strategy a step ahead: we will tell you why Search Engine Marketing (SEM) matters. 
To begin with, introducing to you: SEM…
Noticed those ads that appear in carousels at the top of the search results page on mobile and in the top right of desktops in grids, also called Knowledge Cards, or ads named as Sponsored stamped over other parts of that Search Result Page? To get there with your brand you need to understand the construct of SEM, and why SEM matters to your business.
You are an advertiser, planning to promote your brand whenever anyone from your target market searches goods and services related to your proficiency. So, to begin with, you first need to identify the keywords that are mostly searched by such a pocket of probable customers. 
Once done, you will be aware of those particular searches beside which your advertisement needs to pop up. This eminently will be throwing the footlight on your products, making your conversion chase easier. 
Next, these advertisements, that are as well referred to as Pay Per Click (PPC) ads can come in a variety of avatars, based on your investment and preferences. 
It can be a Product Listing Ad (PLA), a conventional text-based ad or contextual advertisements, that you plan to steal the attention of your audience with. But prior to planning the same: your understanding of exactly why you need SEM in the first place, to promote that product or service: should be amply transparent to you and your assisting digital marketeer. 
For instance, if it's the price or the reviews of your product, that you consider to be its strengths, then PLA ads would serve you correct.
A big pro that leads every serious marketeer to fall in love with SEM, is certainly its potential to bring down to you highly serious searches. By serious, what we mean here is certainly the aggression or the need that shall lead this search into a conversion. 
Just imagine, the extent to which SEM matters and why you need SEM, with this brief example…
You are searching to buy a N-95 mask in this critical phase. You go to Google, type for masks, and immediately on the right hand of the SERP pages arrives options of 4 star rated masks that are coming with an economic price tag, that too delivered at your door step. A problem of a buyer leads him to his solution, heightening the chances of purchase by a hundred times with just one advertisement
Powerful, isn't it?
So, to get down to the basics here are five Powers that SEM can promise instrumental growth to your business through,
– Powerful visibility that leads to probable conversion
– Powerful online selling ROI even in the most competitive of markets
– Powerful online lead generation increasing your clientele beyond geographic restrictions
– Powerful brand awareness realized each time your clientele seeks a related service
– Powerful recognition stance among your competitors
To get a free detailed structured plan of SEM for your product or service, please mail details at info@getyouat.com. 
Happy to give you the marketing strategy that will bring you the power cape, your brand needs.