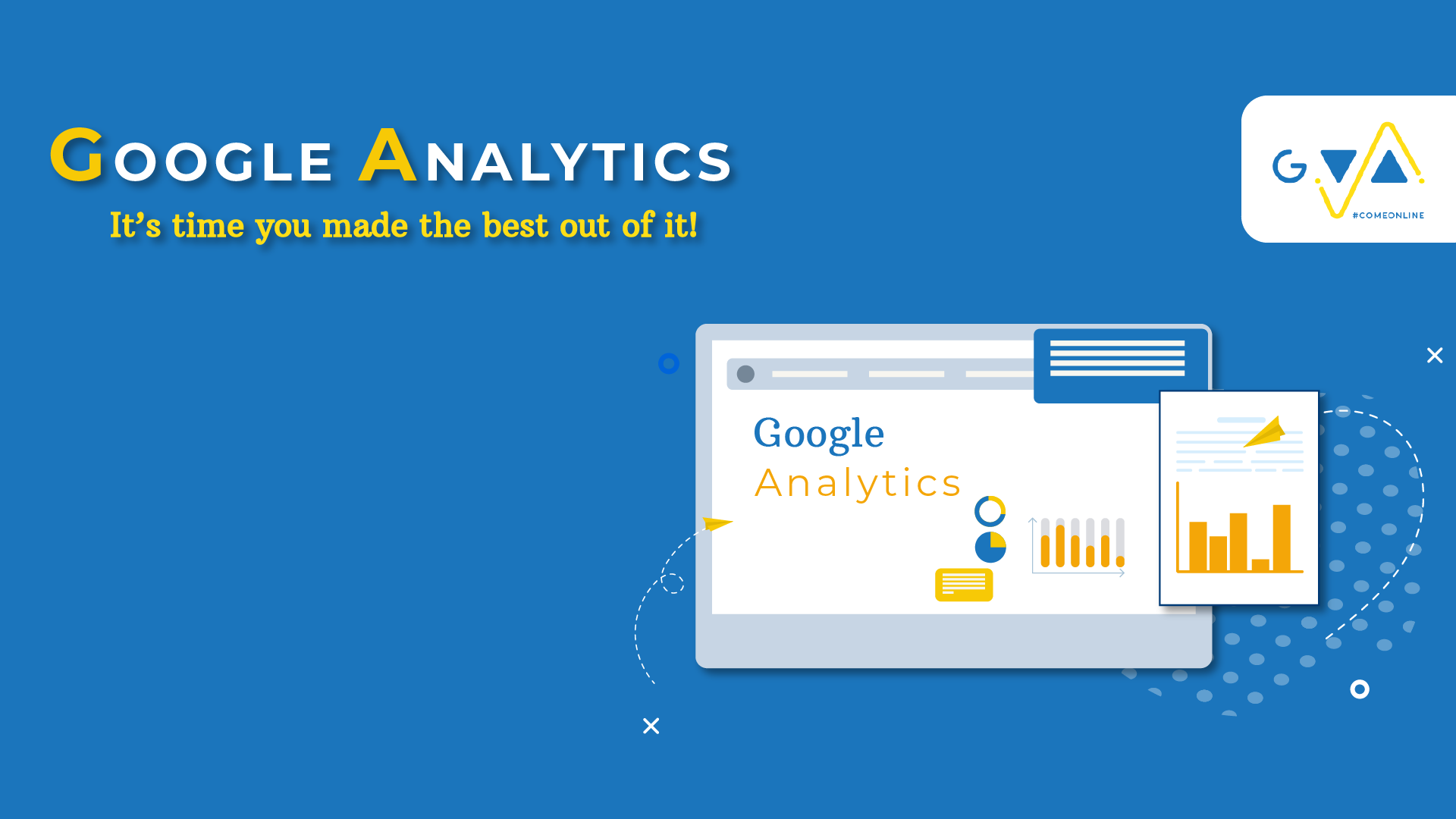 Google Analytics: It is time you made the best out of it!
"Johnny Johnny…Yes papa,
Google Analytics installed on website? Yes Papa.
Interpreting the Collected Data? No Papa.
Correcting website based on it? No Papa.
Client's reaction to your website?…
Well, they bounced!"
There are innumerable Johnny's out there in the chain of small and medium businesses who still deal with Google Analytics more as an accessory or an asset to their website than as a sharp edged tool to strengthen it. Our today's blog session is just for them!
In the field of Digital Marketing, the acing force is of Google Analytics. This stalwart player has been the most prioritized choice for more than majority of the business owners in their process of understanding the market better.
However, choosing to install Google Analytics and using it for some true real-time benefits is certainly not synonymous.
The reasons are varied: for some it could be less-than needed knowledge, for some it could be the unavailability of resources, but this is a common deficiency that several industry builders suffer from.
So today let's look at a handful of strategies that when implemented in your way of implementing Google Analytics can bring up some real sky-rocketing results for your brand.
So teams of business-breeders…follow!
Dig for the 'response-generating-actions' as your metrics…
Understand. The purpose of a website is not just restricted to few CTA buttons.
It is the entire website on a whole that shall convey the very purpose of its creation. In fact to take this a step ahead the website on a whole should be convincingly driving the audience towards action, and that action shall certainly not be a onetime purchase.
Be it a form that asks queries like what more the viewer might like to see on that page, be it a spreadsheet pertaining to your industry that the audience can download and utilize later, or a questionnaire that simply collects the details of the audience for future offers: the actions are important to meticulously measure your audience's involvement with you online (with a page view of max 20 goals at a time).
P.S: In this whole process of understanding the extent of customer engagement on your website, try to avoid turning on Smart Goals, if you are a beginner. It shall make you suffer from TMI syndrome…Too much information!
Choose 'Source' over 'Channels'…
Simplicity is not always the key to success…
Wondering why we say that? Here's why.
While tracking down the amount of footfalls and their duration on your websites is the responsibility of any brand parent… choosing to check these metrics over the simplified version through the 'Channels' option might not always be the correct way.
The reason we say this is since the 'Source' shows the original data that is presented to Google Analytics while Channels is the simpler interpretation of the data presented to you processed by Google Analytics. Consequentially thus a simple back panel error that goes into the creation of your website might lead to weird results absolutely away from the reality if 'Channels' are all you focus on.
Processed food and processed information are at times equally unhealthy.
Real Time Traffic Analysis: choose many over one…
One of the features of Google Analytics, that has always been an underdog, when it comes to understanding its potentials is certainly the Real-Time report feature. It helps you understand the potential of every marketing experiment that you conduct with your website, in real time analytics, indeed.
Let us get you a clearer picture serving as a reason of why we say that…
When you plan a promotional strategy for your website and the basic criterion of it requires you to know how many people are online at that time, a simple look at the analytics would tell you the number of people on your URL, but a real-time check would let you know the percentages of even more vital metrics. For instance, the paid, direct and organic audiences on your site at that moment as well as the site views received every second can be decoded by the real time report feature.
Bingo! Your experiments just got a few steps closer to accuracy!
Don't count your own footprints, silly!
Well, this might seem a little too obvious initially, but read on.
Because it's actually not.
Google Analytics acts as a dedicated guard keeping metric that constantly keeps a register to note every IP address that steps in. If your website is in its infancy yet, then too many log-ins from you and your team can itself give a wrong assessment in the final stats.
So, now?
Chose it. Exclude it.
Yes, that's a possibility. Google analytics allows an option where you can exclude certain IP addresses from its count of website visitors. Thus in the analytic score you are provided with the real time metrics of only potential users whose visit means business is cooking!
Do you have a search button 'within' your website?
Google caters to all. But your website does not.
And that's such an opportunity!
When a person reaches your website through a search led by Google, half of your chase is sorted. Now you have a set of filtered audience on your website. Great!
But what's next?
What if these filtered audiences can conduct further filtered searches for exactly what they want once in your website? You track these searches through Google Analytics in regular intervals, know exactly what you need to serve your clients in future and how exactly would they like it served.
Just switch on the 'site search track' option without having to make any modulations in the back panel coding, and there you get started!
Well that brings us to the end of the blog, my friend.
Wondering where are those use UTM tag coding advices, the cross domain tracking analysis guidelines, the flowchart explaining the download of massive Google Sheets and et al.? Well you can find them in most other sites offering you blogs on better usage of Google Analytics, and most of you ended up here after you read those critical processes.
We thought to give you something different and make sure you simply start growing!
But differently. The few above mentioned tricks when implemented might lead you to some queries and confusions, which is absolutely expected. In fact, let's face it: when we begun our journey as digital marketers, we too did go through them. But now that you have Get You At, just drop a mail to info@getyouat.com. We are waiting to answer them all, just on the other side…of your screen.