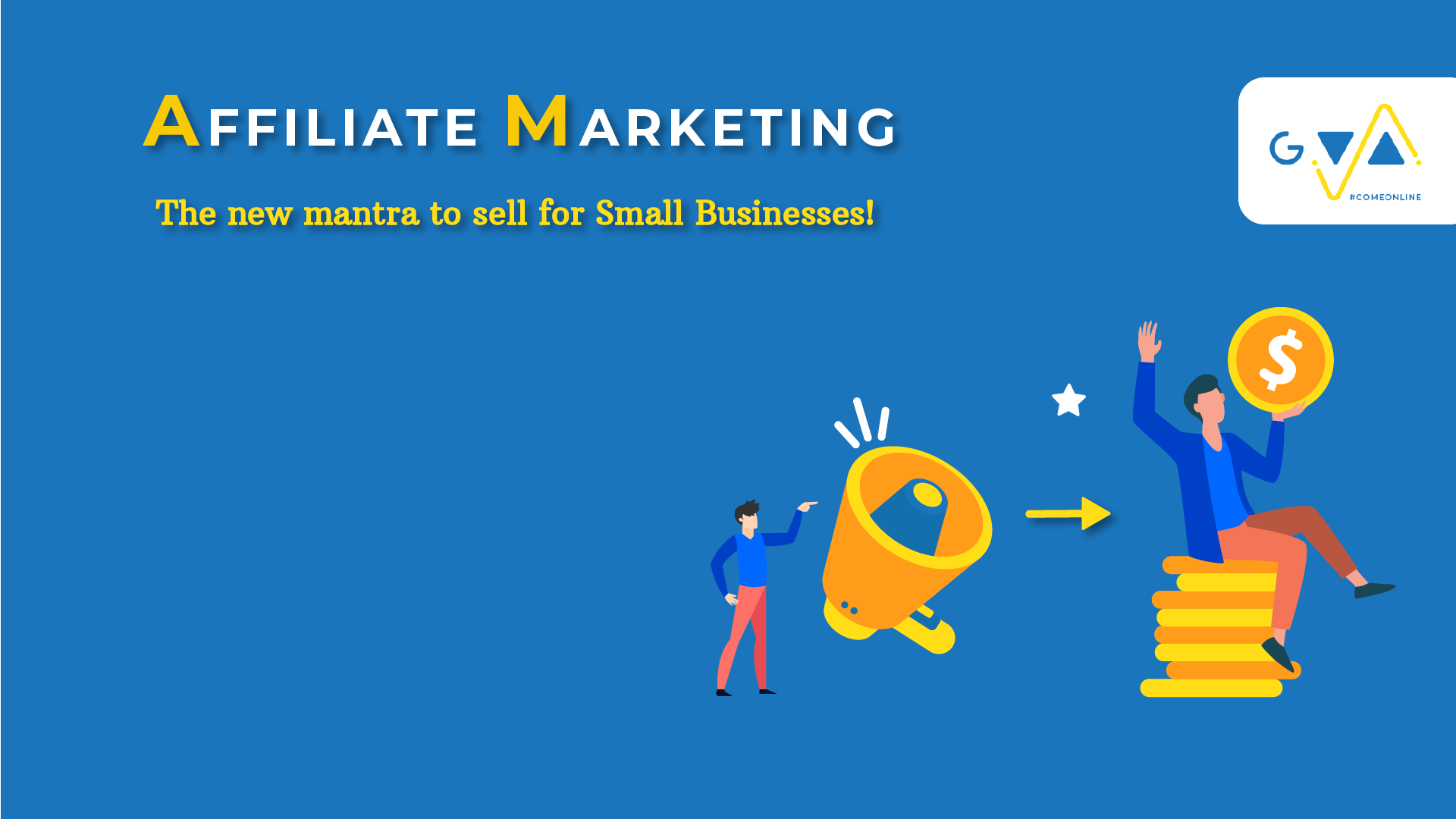 Affiliate Marketing: the new mantra to sell for Small Businesses!
Have you just entered the vast world of digital marketing with a bright idea of a brand? Are your eyes yet to sink in the vastness? Are you confused as to how to market your brand with the classic entrepreneur pocket crunch? Is the digital market glamour blinding you from the right direction to advertise?
Hold on. That sounds familiar…
And thus today we shall talk of an advertising tool that can assist you in promoting your brand in the initial phases when your finances are scarce and ideas are unending.
Affiliate Marketing: A mode of advertising where the sales person gets a percent of your profit once an item of a certain service ingredient launched by your brand is sold through his or her assistance channelled through a unique affiliate link.
To name a few such successful websites that provide you with affiliate marketing services we have ShareASale Affiliates, Solvid Affiliates, Amazon Associates, eBay Partners on the block.
Well now that we are done with the definitions, and examples let's get into the real business. Why would your small business need to invest into Affiliate Marketing out of the zillions of marketing channels prevalent in the digital microcosm today? Why is Get You At prescribing it in their Rx? Here's why…
Let's begin a class on why your brand needs 'Affiliate Marketing'.
Lead sales with proofs…
With every emerging day and emerging gimmicks in the world of Digital Marketing, the audience is increasingly understanding how essential credible evidences are. And there is certainly no rocket science behind this.
Step into the shoes of your client and think: while making an online purchase decision the complete interaction that is taking place is between you and a screen. A great tool that adds power to this screen to assist in conversions is certainly 'reviews' as they are the only human mentions that creates an immediate connection with you.
When you invest in affiliate marketers who are professional publishers of content that has been helping and guiding a certain cult of people and they mention your product in their reviews, it acts as a shield of proof that adds credibility to your services overnight.
No more PPC but PPS (Pay per Sale)…
In any mode of advertisement occurring over digital mediums, a basic investment is a mandate to begin with. In contrast to all these mediums Affiliate Marketing is much more rewarding.
Reason we say that?
With the rising advertising costs, as compared to Google Ads, Affiliate Marketing can cost 20 times lesser.
Proportionately thus the very return on investment as well increases. Furthermore in case of affiliate marketing, the payments are sales oriented and not just based on promotional campaign creations. Instead of traffic, here what you pay for is sales.
Pay only when you are paid. That sounds so much like music to the ears that belong to the head of any entrepreneur, isn't it?
Multiplies your true audience and not just reach…
When you approach a certain publisher for affiliate marketing, you are doing so because you are aware that he or she has a trusted set of audience, who do follow his or her content. When you employ them to promote your services you do basically not have to create a new set of audience to increase your reach, much of which could fall in front of eyes and ears that are highly improbable to become a part of your target market.
Through affiliate marketing you get access to a set of already established audience where chances of conversion are much higher. To add cherry to the top, this established audience is more prone to read about your services and products by self willingness to expand their respective businesses and could be first hand sharers of your hard work weaved content.
Affiliate marketing can thus lead you to forming the foundational client base for your brand in the inception phase of its career arc.
A cost reduced marketing team packed in one…
There are several entrepreneurs around the world to whom even one added employee at times seem a luxury. For these potential yet financially unmet entrepreneurs there cannot be better news than that of Affiliate Marketing.
Once you employ one affiliate marketer, he comes with an experience and skill set that can provide your promotions the edge that could be brought in only by a team of advertising managers who again even if come with experience would certainly not come with a committed to sales mindset.
When you choose affiliate marketing through a website you are basically choosing a set of salespeople who are partners in your profit shares and not standing marketing agents or employees whom you have to pay any way to the keep the wheel of business rolling.
Data monitoring made easier with assistance
In the initial phase of brand building, it is necessary that the builder has the performance analytics of every day in the market assessed to make the next day better. While investing into Affiliate Marketing it creates a scope for these naïve marketers to get into the back panel of their website and explore to find the extent of sales that was drawn by the affiliate.
Once collected, it is this data that can be verified with the affiliate marketers report, and since the person sitting on the other side of the screen is necessarily a professional, tallying the reports shall give you a better insight of how close you are to correct, leading you to more accurately strategized business moves for the next day.
SEO-an added bonus
The power of inbound links that lead traffic to land on your website is nothing new. But what these inbound links can do to the SEO score of your website, is quite a story.
Enhancing the organic ranking of your website through affiliate inbound link mentions, can bring your website a score of advantages that are comparable to high worth Google Adword services. Most importantly the Google Algorithm will detect this as organic, and heighten the quality score of your virtually launched content.
The share-onomics that shall be followed by the established audience of the affiliate marketers, as we told you above, acts as an added organic impetus taking your website rankings higher up against the Google S(ERP)ky.
Outsourcing the task, not the controls
Irrespective of your industry or your experience, it stays a well known fact to any adult in the market that deft marketing of a brand is not a move, it's a decision. Decisions that demand the decision maker to have complete control on the execution of the decisions as well. Hence before the advent of affiliate marketing, sharing portion of profit with a partner and yet not losing out on controlling authority of the business that's your brain-child was almost a far-fetched utopia.
It is however with the advent of Affiliate Marketing that by just sharing an unique affiliate link you are making an external marketer responsible for generating sales like a partner would and yet having to share none of the ownership rights of your business idea.
Your innovation stays yours while you simply outsource the task of marketing it to an affiliate partner.
To conclude Affiliate Marketing in no way needs you to choose this mode of marketing as a standalone marketing instrument. Integrate it within your existing marketing strategy, if you have or plan to have one soon, and use it to amplify the strengths of your other channel campaigns anytime. Affiliate Marketing is a god-sent marketing instrument for bright business beginners who face a sharp financial crunch but are high on ideas.
Now that you have reached the end of this blog and are well-equipped with the knowledge of how this marketing tool can assist more and claim less out of your brand building budget, mail us all your queries related to Affiliate Marketing on info@getyouat.com today. And we shall get your doubts sorted so that you can independently begin a voyage with your affiliate, soon enough.
Happy s(elling)ailing!